Healthy and tasty creamy herb chicken, filled with so much flavour, accompanied with a fresh salad and steamed rice with vegetables?Yes & ready on your table in 30 minutes!!

In our plate for today, you will enjoy a spoon or two of fresh salad, a serving of steamed rice with vegetables and cream sauce for escalopes.A great delicacy!

A- Preparing the sauce:

Cut chicken escalope and Season generously with salt and pepper.

Heat the butter in a large pan over medium-high heat and put the onion and chicken breasts until opaque and no longer pink inside

Add 2 teaspoons of olive oil with garlic, parsley, thyme and rosemary, for about 1 minute, or until fragrant.

Add 2cups of water and season with salt and pepper, to taste.

Bring to a boil, then reduce heat and leave it cook for 5minutes.

Pour the cream and stir gently for 2more minutes.

Sprinkle with extra herbs if desired. Serve immediately.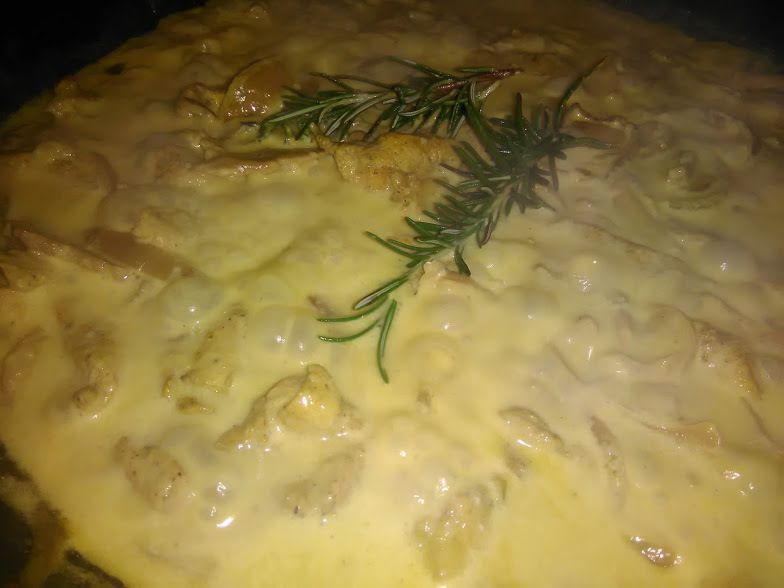 B- Preparing rice
1- Chop assorted vegetables
2- Steam them with rice and garlic.
3- Add 2 spoons of olive oil to keep rice from sticking and stir throughly when cooked.
C- Preparing the salad
Cut some lettuce, onion, tomato, tuna, olives and dress with a vinaigre sauce.
Yield: 4 servings

Ingredients for the sauce

2 boneless, skinless chicken breasts

2 Tbsp butter

4 Tbsp olive oil

1/2 cup finely diced shallots (or red onions)

3 cloves garlic , minced

3 brown/white button mushrooms, diced

½ teaspoon dried thyme

½ teaspoon rosemary

1 cup of sour cream

Salt and freshly ground black pepper

Red pepper flakes (optional)

Ingredients for the rice:

1- Garlic, 2 cloves

2- 1 cup of assorted vegetables like carrots, potatoes corn, peas, celery

3- 2 cups rice

4- Water to steam rice
To be informed of the latest articles, subscribe: