Brownie is a chocolate cake containing pieces of walnuts, oven-baked. It is one of the most popular and favorite desserts for children. It is very easy to conceive. The original recipe includes sugar, eggs, flour, butter and chocolate, but it can be made without butter, especially for people with allergies.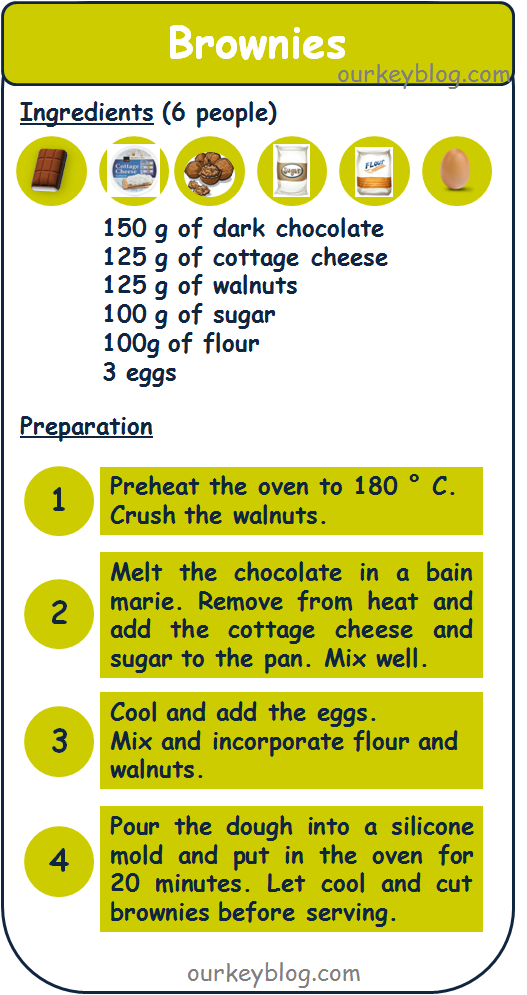 Ingredients (6 people)
- 150 g of dark chocolate
- 125 g of cottage cheese
- 125 g of walnuts
- 100 g of sugar
- 100 g of flour
- 3 eggs
Preparation
1- Preheat the oven to 180 ° C. Crush the walnuts
2- Melt the chocolate in a bain marie. Remove from heat and add the cottage cheese and sugar to the pan. Mix well.
3- Cool and add the eggs. Mix and incorporate flour and walnuts.
4- Pour the dough into a silicone mold and put in the oven for 20 minutes. Let cool and cut brownies before serving.
To be informed of the latest articles, subscribe: