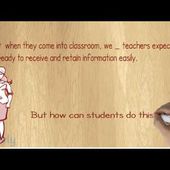 Teaching English through drama
Implications of using drama in teaching
Hello everyone, I am
a Senior English teacher in a
pioneer prep school in Tunisia. In this article I intend to consider the acquisition and teaching language skills through the techniques of drama , and to show how such techniques can enhance the effect and quality of teaching English as a foreign language.
It's quite obvious today that we –educators must innovate new ideas to motivate students and engage them more in learning and developing the new 21
st
century skills, including innovation, creativity, computing, critical thinking, collaboration, problem solving, presentation, communication, and leadership. When we innovate now, we are equipping our thinkers of tomorrow by mastering such life skills with which they may reach out and succeed.
However
, we live in a quite busy stressful world with frequent distractions and many things to think about : Computers, internet, smart phones, video games, and social websites making our world in constant motion.
Besides students have burdens from their homes, too . In fact, students entering the classroom are thinking about a thousand things: did I get my homework done? What will I have for lunch? Why did I fail to download that application? Will I manage to be on time for my
favourite
TV
programme
? And many more questions. All this makes learning a compulsory task, they can never escape.
But when they come into classroom, we _ teachers expect them to be ready to receive and retain information easily. But how can students do this with so many things in their minds. What's even worse, some teachers are totally indifferent : "I'm more stressed, I'm busier", I'm simply overwhelmed, they've got duties to do whatever
happens:They
got no other choice". Which I think is absolutely wrong. Indeed , we're here today for that other choice : Where both students and teachers connect and enjoy interacting in a funny atmosphere. It's through teaching while using drama. So what are the implications and benefits of using theatre in class and how can it be a powerful tool to teach English effectively?
The
potential and benefits of the use of drama in learning a foreign language can be summed up
as follows:
•
Drama can inspire students' imagination, creation, motivation, collaboration and English learning skills all in meaningful situations.
•
Drama activity combines action and entertainment for students while achieving the teaching goals spontaneously.
•
Drama encourages
different learning styles
and intelligences- visual, auditory, kinesthetic and tactile.
•
Students acquire skills in authentic, fully contextualized and interactional manner
•
They develop or improve a sense of confidence in their abilities to learn the target language."
•
Since "All the world's a stage,
And all the men and women merely players;
They have their exits and their entrances;
And one man in his time plays many parts."
Shakespeare (
As You Like It,
Act II. Scene VII.
)
To be informed of the latest articles, subscribe: