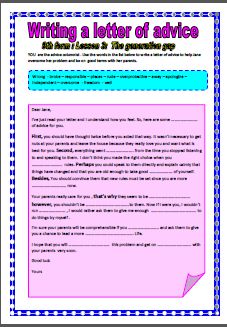 Jane, a 15-year-old school girl had a quarrel with her parents and decided to leave the house. Let's help her with some advice.
YOU are the advice columnist . Use the words in the list below to write a letter of advice to help Jane overcome her problem and be on good terms with her parents.
wrong - broke – responsible – pieces – rude – overprotective – away – apologize – independent – overcome - freedom - well – care
Dear Jane,
I've just read your letter and I understand how you feel. So, here are some ……………………. of advice for you.
First, you should have thought twice before you acted that way. It wasn't necessary to get nuts at your parents and leave the house because they really love you and want what is best for you. Second, everything went …………………….. from the time you stopped listening to and speaking to them. I don't think you made the right choice when you ……………………….. rules. Perhaps you could speak to them directly and explain calmly that things have changed and that you are old enough to take good …………………. of yourself. Besides, You should convince them that new rules must be set since you are more …………………………… now.
Your parents really care for you , that's why they seem to be ………………………………… however, you shouldn't be …………………………………..to them. Now If I were you, I wouldn't run ……………………. , I would rather ask them to give me enough ……………………………………. to do things by myself .
I'm sure your parents will be comprehensible if you ……………………….. and ask them to give you a chance to lead a more ………………………………………. life.
I hope that you will ………………………………… this problem and get on ………………………….. with your parents very soon.
Good luck
Yours
To be informed of the latest articles, subscribe: