Here is my 7th form test. You can use it to review or assess the present simple and continuous, communicative functions, airport conversations and daily routines.
I-Language: (15marks)
1- Circle the correct option. (3 marks)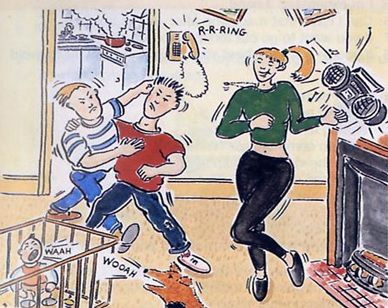 It's five o'clock. Mum is back home. But she is very angry. The house is in (a – an - the) mess. The baby (cry- crying - is crying). He is afraid of the dog barking. The two brothers are (feeding - fighting- flying) about TV. The telephone is ringing, but the daughter (don't - doesn't - hasn't) seem to hear (her- him- it), because she is listening to loud music. Oh! The food is burning! Luckily, mum is there just in time before it is too (early - late-daily) .
2-Find the right function for the underlined sentences.(3 Marks)
A

B

Dear Matt,

Hi! (1) How are you?

Thanks for your letter and the photo of your football team.(2)

We play basketball at school, too, but my favourite sport is rugby. I love it!

I like English very much and I'm good at Music, but I hate Geography. (3) At home, I play a lot of video games. My favourite game is "half life" (4). Have you got video games at home? What's your favourite game?

My best friend is Rebecca. She's my classmate, too. She's so cute and generous. She's also very clever (5).

That's all for now. Please come and visit me and meet my friends (6). They'll be glad to meet you. Write soon.

All the best

Sean

Describing

Greeting

Inviting

Introducing oneself

Introducing others.

Thanking

Talking about likes

Expressing dislikes

1 +_____

2 +_____

3 + _____

4 + _____

5 + _____

6 + ______
3- Circle the correct option. (3marks)
"Great holiday, will be back next year, J Steve"
It's our first time to Tunisia, and what a great time we are having! We really feel glad (we're- where – wear) here. The weather is fine. The hotel is luxurious,(quiet- quite-quit) and clean. All the staff is very helpful and work so hard to ensure (we – our- us) the best holiday. The animation team, is cheerful, they (never – always- ever) smile. Food (tastes- taste –tasting) really good especially couscous, briks and lablabi. People here are so (hungry – friendly-crowded) and welcoming. I loved everything here; I think I will be back next year.
4- Put the brackated words in the right form or tense. (2.5marks)
CHECK-IN WORKER: Hello. Where are you flying today?
MARY: Hi, I (fly) ……………………………to London, England.
CHECK-IN WORKER: Can I (see) ………………………… your ticket and your passport, please?
MARY: Sure. Here's my passport. And here's my ticket.
CHECK-IN WORKER: Thank you. Would you like (have) …………………… a window seat?
MARY: No, I'd like an aisle seat please.
CHECK-IN WORKER: OK, and (be) ………………………. all this luggage yours?
MARY: Yes, these suitcases are mine.
CHECK-IN WORKER: All right. One of your bags is overweight.I have to charge (you) …………. for the excess weight.
MARY: I see. How much money do I have to pay? And can I pay by credit card?
CHECK-IN WORKER: $30 dollars more, Miss, and yes, we do accept credit cards.
5- Fill in the blanks with 7words from the list. (3.5 marks)
because - so – has – On – usually – cooks – Then – in - have
My favourite meal is breakfast. From Monday to Friday I go school early, …………………………. I have a quick breakfast. I ………………………………… have cereals with milk every day. Or sometimes I have a toast with jam. But the weekend is different. …………………… Saturdays and Sundays, my dad ………………………… an English breakfast for everyone in the family. A typical English breakfast is egg, bacon, saussages, tomatoes mushrooms and baked beans (beans in tomato sauce). ……………………………………, we have a toast with jam. I drink orange juice and mum ………………………………..tea or coffee. I love breakfast at the weekend ………………………………I spend more time with the whole family.


Look at the pictures and write a paragraph about Smurf's daily routines. (5marks)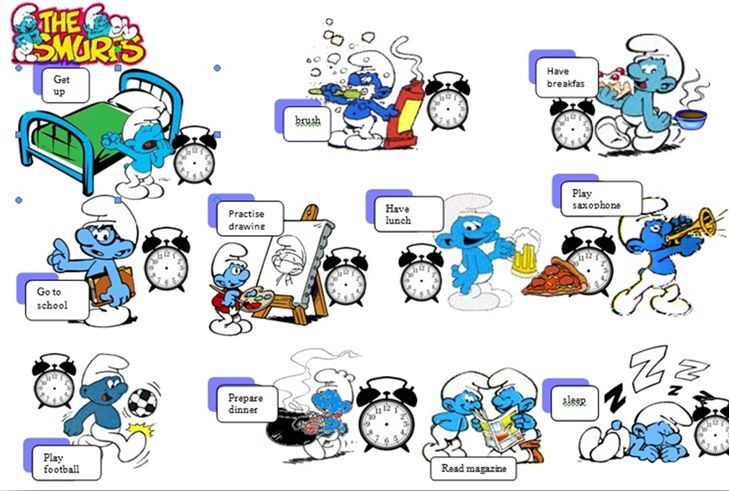 To be informed of the latest articles, subscribe: