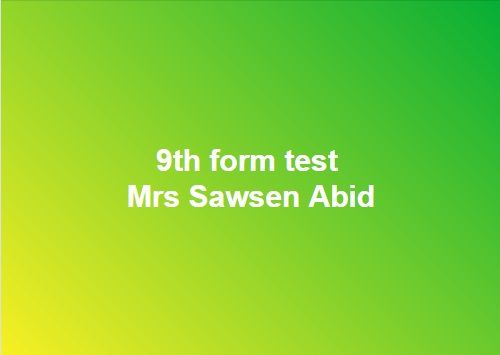 Complete the paragraph with six words fom the box. (3marks)
While -despite – through - held – anxiously – though - were – grade – degree
Summer was over and so were beach days and ice cream at noon. Sprinkler parties filling the quiet Brooklyn streets in the hot, still air of July ………………………… finished. School was starting again – finally my last year at the place I'd grown to love since sixth ……………………….. The nervous butterflies in my stomach never went away, even after three years of first days.
Mixed emotions filled my head. I missed waking up late and lazing around as much as I was anticipating my first-period class and first homework assignments. ……………………………. very excited, I was nervous to see my friends too. Would they have changed over the summer?
But after exchanging stories of staycations and camp, jet setting and poolside gossip, everyone felt at home as we walked toward school. We had been through so much in the past three years, and those memories ……………………………. our friendships together. We had sat in awe at school trips, laughed over cotton candy at the barbecue, and ……………………….. talked about the high schools we wanted to attend. Something had changed, though, and we all grew quiet as we walked up the tall marble steps to greet our final year. I know I took a mental snapshot of this last first time I would walk, arm in arm with my friends, …………………………… our school's doors. The first day of school was always as bittersweet as the last.
Circle the correct option. (3marks)
Teaching is the best job. I enjoy every bit of my job. It has its ups and downs but (in - on –at) the whole it's fulfilling when you help youngsters to leave school with decent grades and know they have a future. I teach in a lovely school (which – where - whose) the vast majority of parents and pupils are very respectful and supportive of the school and the staff. I know that many teachers' experiences are very different to (myself - me - mine). Sometimes it's the best job in the world and sometimes it's the (least – most – worst) job in the world! We mustn't forget how lucky we are to do this job even though it can be difficult. I love it. I love the students and their continuing ability ( amazing – amaze - to amaze) me.I thoroughly enjoy teaching and making a difference in (children' lives - children's lives – children' life). It is an honour to be in this role. I feel proud knowing the children as individuals and giving them the best I can.
Put the baracketed words in parentheses in the right tense or form. (3marks)
I have two teachers who mean more to me than some of my closest friends. In grade 9, my English teacher talked me out of suicide. She doesn't know that she did, but she was always there for me and that (get) …………………..……....... me through. My biggest regret so far in this life is not thanking her for being a part of it because she now unfortunately works somewhere else.
I am in grade 10 now and I have a new English teacher; a brilliant (look/young) ………………………………………………. lady who goes above and beyond every single day to remind me that I can be more than society tells me. She is one of (influence) ………………………………………….. people who I have ever met and she has shaped my life more than an (art) ……………………………………. could shape clay. I know now that, the most important people don't always stick around, so I refuse to let this teacher leave without properly expressing how much they mean to me.
Because of those two extraordinary women, I want to be more, and I aspire to one day be a teacher like they are. And maybe one day, I (grow) ……………………………. into half the person that they have been to me. I am privileged and honoured to be able to say - Miss Fletcher and Miss Light have been more like family than teachers. And I can comfortably say, that no matter how I say thank you; it will still only (scratch) ……………………….. the surface of my immense gratitude.
Match the sentences parts to get a meaningful paragraph.There is an extra part in B.(2.5marks)
A

B

Students take many oral and written exams in the years of schooling. Pupils have

Some people may argue that exams are not necessary so they should be abolished.

Besides, many people may claim that examinations test a limited range of skills. So, they favour

They are theoretical and useless

However, coursework and exams may test a greater range of skills.

However, they are essential because exams test students' skills and enable them to overcome their nerves.

people who have a good memory and techniques.

got their own way to handle homework.

because students may forget the subjects, which have been learned, as time goes by.

to be evaluated by their teachers to see whether they make progress or not.

They may also be an efficient way to measure the student's knowledge.



Choose the correct option and rewrite it in the appropriate space. (2.5marks)
Bullying has been a problem in many schools for a long time. It can take many forms: insults, mocking, physical (violent - violently – violence) ……………………………… , excluding people or forcing them to give money to the bully. Recent forms are bullying by text messaging, taking embarrassing photos with mobiles and sending them to other people. But in some schools, pupils volunteer to be mediators - pupils who are being bullied can talk to them and the mediators organise meetings with the (bullied- bullies – bullying)………………..………….. and try to resolve the problems. The idea is that kids are happier to talk to other kids than to adults and they will talk about problems before they get serious. In other schools the older pupils are mentors for the younger pupils who ask for help. Pauline explains, "I was being bullied and I talked to Marie, an older pupil, (but - because – besides) ………………………….. she could understand. She told me about problems she had and we talked about ways I could try to stop the bullying."
A UK radio station started an anti-bullying (camping – company - campaign ) ……………………………………… last year and asked people to wear blue bracelets that said "Beat Bullying". Wearing the bracelet shows you won't tolerate bullying and it shows victims that they aren't alone. The biggest message is: ( talk – talking – talks) …………………………..to someone about your problems. It can be a parent, a teacher, a friend or an anonymous phone helpline, but it's important to know that you are not alone.
You are John, a 20-year-old blogger. While thinking about school memories, he decided to write an article to insist that instead of being the most joyful and treasured moments of life, school time for him was simply sheer boredom and even a source of oppression.
Write his article using strong arguments to support his opinion.
These hints may help you
Fun – learning - friends- rules – punishment - homework – exams –bullying
………………………………………………………………………………………………………………………………………………………………………………………………………………………………………………………………………………………………………………………………………………………………………………………………………………………………………………………………………………………………………………………………………………………………………………………………………………………………………………………………………………………………………………………………………………
To be informed of the latest articles, subscribe: