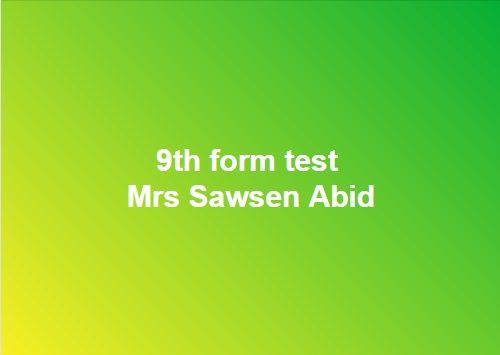 PART ONE : Listening Comprehension (8 marks) /20
1) Tick (√) the right alternative (1 mark)
In this passage the auther sounds:
dissatisfied

frustrated

contented
2) Correct the following sentences with reference to the listening passage (2 marks)
This mother is always very busy and has no time for her family
---------------------------------------------------------------------------------------------------------------------.
The children don't help with the house chores.
---------------------------------------------------------------------------------------------------------------------.
3) Why is cleaning the house the mother's least favorite chore? (1 mark)
-------------------------------------------------------------------------------------------------------------
Tick the right meaning of the following word: (1 mark) "caring" means :

Kind- hearted

/

Overprotective / Thoughtless

Spelling: Fill in the gaps with words from the listening passage (1 mark)
According to this passage, mothers are a little of everything , they are like ……………………….. when they help their children with the homework and like nurses when they …………………………… their ill children.
Functions:

What does the following sentence express? (1 mark)
Mothers are people who can make you feel better.
è It expresses : …………………………………………………………..
Pronunciation:
Listen and say whether the following sounds are similar or different: (1 mark)
Clean _ Feed (---------------------) Little _ Like (--------------------)
PART TWO : Language ( 12 marks)
Match the underlined sentences in A with their functions in B. Answer in C. Be careful! There is an extra function in B ( 3 marks)
A

B

C

-Bill: Hi (1)Anna.

-Anna: Hi, Jack. Where were you?(2)

- Bill: I was with Liam.

-Anna: Is he the tall one there?

-Bill: No! he is the one that is as tall as you.(3)

-Anna: Then who am I thinking of?(4)

-Bill: I think it's Luke. He is the tallest of the group. (5)

-Anna: That's right! Luke has blond hair, Whereas Liam has dark hair.(6)

-Bill: that's correct

Comparison of equality

Greeting

Asking about person

Asking about time

Describing

Expressing contrast

Asking about place

1+……..

2+……..

3+……..

4+……..

5+……..

6+……..
Put the bracketed words in the right form or tense. (3 marks)
The relationship between parents and children Is very important and sensitive. It is a universal (1) (truth( ………………………………….……….. ) that both parents and children love each other .But sometimes (2) (maintain)(……………………………………………) the relationship really becomes a challenge .The reasons can be several; lack of proper (3)( guide) (…………………………………………), overprotection in parenting, ,conflicts of interest and so on . Sometimes the conditions (4) (to become) (…………………………………………) so severe that both of them do not even prefer to spend time with each other. The reason is not that they do not love each other but to show that they are(5) (disappointing) (…………………………………………………) with the behavior of each other. It is not (6) (to anticipate)(……………………………………………) that the things with great change .But still both parents and children can enhance their relationship to a great extent.
Circle the right option. (3marks)
A friend came to my house for coffee; we (sit – set – sat) and talked about life. At some point in the conversation, I said, "I'm going to wash the dishes and I'll be right back."
He looked (after – for – at) me as if I had told him I was going to build a space rocket. (Then - Though – whereas) he said to me with admiration but a little perplexed: "I'm glad you help your wife, I do not help because when I do, my wife does not praise me. Last week I washed the floor and no thanks."
I went back to sit with him and explained that I did not "help" my wife. Actually, my wife does not need help, she needs a partner. I am a partner at home and through that society are divided functions, but it is not a "help" to do household chores.
I do not help my wife clean the house because I live here too and I need to clean it too.
I do not help my wife to cook because I also want to eat and I (need- necessary - necessarily) have to cook too.
I do not help my wife wash the dishes after eating because I also use those dishes.
I do not help my wife with her children because they are also my children and my job is to be a father.
I do not help my wife to wash, spread or fold clothes, because the clothes are also (my – me - mine)
And as for praising, why don't you praise her as you wanted to be praised, in the same way, with the same intensity. Give her a hand, behave like a true companion, not as a guest who only comes to eat, sleep, bathe and satisfy needs … Feel at home.
After all, the real change of our society (begin – begins- began) in our homes, doesn't it?
Fill in the blanks with six words from the list. (3marks)
Good - fierce – seriously – occurrence – under - improve – approve – unaware- responsible
Dear Sir,

I am writing to draw your attention to a situation that has been developing in my neighbourhood.

Recently, I have witnessed many dogs on the loose in the neighbourhood. The dogs, which are …………………………- looking and not muzzled, are given license to run around the neighbourhood. They are intimidating, especially to children and the elderly. I am afraid that it's just a matter of time before someone gets …………………………… injured.

The owners of these dogs, a bunch of adolescents, seem to be ………………………. of the dangers of letting their pets off the leash and have adopted a nonchalant attitude. The teenagers have been asked by numerous locals to keep the dogs……………………… supervision but all requests were ignored and the situation did not …………………………. I therefore, believe that immediate action must be taken and I ask that you investigate the matter and take appropriate action as soon as possible to prevent the ……………………………. of injury and serious bodily harm.
Yours Sincerely,
To be informed of the latest articles, subscribe: