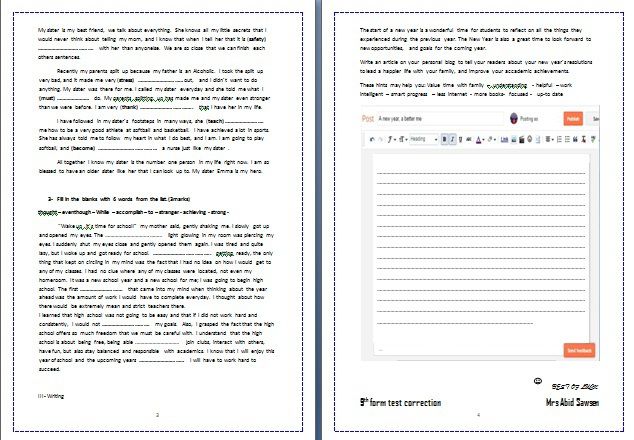 Here is the second part (language part) of the full-of-semester one test for the 9th formers in Tunisia ioneer students. Enjoy sharing!
II- Language
1-Match the sentences parts to get a meaningful paragraph. Number one is done. (2marks)
A

B

C

There may be anywhere from a few hundred to a few thousand students at any level of education,

In order for faculty and staff to manage such large groups,

Some rules are intended to protect the students as well as the teachers,

Rules also help prepare students for life as an adult and by learning to follow rules as a child,

It also helps the students get used to adhering to policies and procedures

ranging from elementary school to university.

while others exist to foster a healthy learning and teaching environment.

that they will face as employees once they reach adulthood.

a person may be better prepared for following laws as an adult.

implementing rules for the students is necessary.

to help maintain order in a large group of students.

1+ a

2+…

3+…

4+…

5+…

2- Put the bracketed words in the right tense or form. (3marks)
My sister is my best friend, we talk about everything. She knows all my little secrets that I would never think about telling my mom, and I know that when I tell her that it is (safety) …………………………………. with her than anyonelse. We are so close that we can finish each others sentences.
Recently my parents split up because my father is an Alcoholic. I took the split up very bad, and it made me very (stress) ……………………………out, and I didn't want to do anything. My sister was there for me. I called my sister everyday and she told me what I (must) …………………… do. My parents splitting up has made me and my sister even stronger than we were before. I am very (thank) ……………………………….. that I have her in my life.
I have followed in my sister's footsteps in many ways, she (teach) ………………………. me how to be a very good athlete at softball and basketball. I have achieved a lot in sports. She has always told me to follow my heart in what I do best, and I am. I am going to play softball, and (become) …………………………………… a nurse just like my sister .
All together I know my sister is the number one person in my life right now. I am so blessed to have an older sister like her that I can look up to. My sister Emma is my hero.
3- Fill in the blanks with 6 words from the list.(3marks)
thought – eventhough – While – accomplish – to – stranger - achieving - strong -
"Wake up it's time for school!" my mother said, gently shaking me. I slowly got up and opened my eyes. The …………………………………… light glowing in my room was piercing my eyes. I suddenly shut my eyes close and gently opened them again. I was tired and quite lazy, but I woke up and got ready for school. ………………………………….. getting ready, the only thing that kept on circling in my mind was the fact that I had no idea on how I would get to any of my classes. I had no clue where any of my classes were located, not even my homeroom. It was a new school year and a new school for me; I was going to begin high school. The first …………………………. that came into my mind when thinking about the year ahead was the amount of work I would have to complete everyday. I thought about how there would be extremely mean and strict teachers there.
I learned that high school was not going to be easy and that if I did not work hard and consistently, I would not ……………………………. my goals. Also, I grasped the fact that the high school offers so much freedom that we must be careful with. I understand that the high school is about being free, being able …………………………… join clubs, interact with others, have fun, but also stay balanced and responsible with academics. I know that I will enjoy this year of school and the upcoming years …………………………… I will have to work hard to succeed.
To be informed of the latest articles, subscribe: