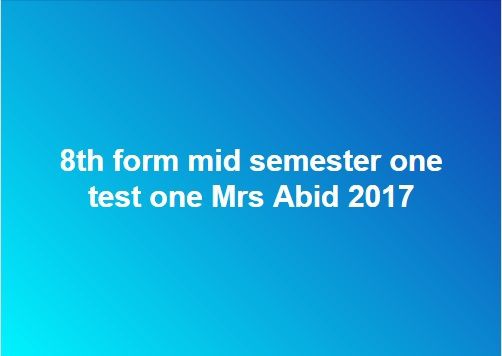 I- Listening comprehension: 8marks
Circle the right answer. (1mark)
The speaker is a - at home b- on the plane c- at an airport
2- Are the following statements true or false? Tick the right column. (1×2=2 marks)
| | | |
| --- | --- | --- |
| STATEMENTS | TRUE | FALSE |
| a-The plane will be flying at an average altitude of 29900 feet. | | |
| b- The local time in Seattle is 12:45. | | |
How long will the flight last? (1mark)
……………………………………………………………………………………………………………………………
When will the captain announce the connecting flights ?

(1mark)

…………………………………………………………………………………………………………………………

Functions:

Match the following utterance with the appropriate function. (1Mark)

SPELLING :

(1mark)
utterance

Functions

Answer

- I want to welcome you to Flight 18

a. Inviting.

b. Desire

c. Request

………………………..
Listen and fill in the blanks with one missing word for each blank.
the ………………………………. weather is sunny, but there is a chance of rain ………………………… in the day.
PRONUNCIATION.

(1mark)
Same or different? Write "S" or "D".
* bound ……… approach * altitude …….. sit
the listening is taken from esl lab
Fill in the blanks with the right words from the list. (3marks)
will / which / who / How / what / dreamt / buildings / landmark/ most
Dear Alex,
How are you? I am in the capital of England — in London. My parents and I always …………………………… about seeing this nice city.
There are a lot of beautiful old …………………………….. . We have already seen Westminster Abbey, Big Ben (now it's called Elizabeth's Tower), The Houses of Parliament, Buckingham Palace, St. Paul's Cathedral, London Bridge, The Tower of london and The Waxworks Madame Tussaunds Museum. There are the models of the ………………………… famous people, from pop stars to prime ministers made from wax in this museum. They look like real. ………………………… interesting!
My parents and I are walking on Trafalgar Square now. There is Nelson's Column in its centre …………………………….. is guarded by four lion statues at its base. By the way, I sent you this postcard with a picture of Trafalgar Square.
The weather is not fine today, it's foggy and rainy. But it doesn't spoil our walking.
We took many photos. Next week we ………………………….. be at home and I'll show you them when I'm back.
Don't miss the chance to visit England and London.
Best wishes,
Maria
Circle the right option.

(3marks)
Mum and I were going to Paris for tourism, so everything was fine and set. Tickets, passports and visas were ready. But right from check- in at the airport, things started to go wrong. When we arrived it was too early for the departure time so we went to a café (who- where – which) we got some rest and some refreshments. But just when we heard the announcement calling our (fly- flew- flight), I realised that I forgot my handbag in the check in desk. I hurried to get it back. But we could not reach our plane in time.
We had to wait till the morning to catch another plane. But as soon as we (leaned- lent- landed), it started to rain heavily. So it was no way to go sightseeing. What's more I went to our tiny room and turned the heater on. But it didn't seem to work. What's even (bad- worse- the worst), the roof started leaking. And I had to spend the night in mum's bed. The next day we wanted to catch a train to enjoy some sights. Unfortunately, the station was too crowded and I (boarded- bored – abroad) the tube while mum could not. I was really scared and got off on the next station, took a taxi and returned to my hotel room. Mum hopped through all the stations calling me. She (fell- filled- felt) desperate because I didn't answer her calls back. But of course I couldn't as I forgot my cell at the hotel room.
Put the bracketed words in the right form or tense. (3 marks)
I would love to travel all around the world and experience the wonders and cultures of these towns, cities and countries.
The first place I would like to visit in Italy is Tocco. I would love to taste there yummy foods like pasta, pizza, cakes and many more.
The second place I would like to visit in Italy is Venezia (Venice). The town of love and romance, oh and Gondolas. I would love to go on a boat (ride) ……………………….. on a Gondola and hear the lovely sounds of the paddle swaying through the deep blue water and the (Italy) …………………………. music being played.
The next place I would like to visit in Italy is Rome is the Colosseum and imagine that I was one of those gladiators fighting the wild animals that were awaiting me. The next place I would like go to is the Trevi fountain and throw a coin in there, making a wish, hoping it (come) ……………………………… true.
(3) ……………………………… place I would visit in Italy is Pisa and go to the leaning tower of Pisa and pretend that I'm holding it in my hands and I'm (strong) ……………………………. person on earth. I would go in inside and see the history that it has brought to our world.
The second last place I want to go to in Italy is Milan the fashion capital. I would experience the fashion shoots, cat walks, runways and the latest fashion, so I could be Italy's next top fashionista.
The last place I would like to visit in Italy is Florence just to see the (amaze) ………………………… places that are waiting for me to visit. That would be the end of my Italy trip.
Choose the right options and rewrite them in the appropriate blanks.(3marks)
I love travelling, but it hasn't always been my passion. In my first year of university, I started to travel during the holidays. During the Christmas holiday I ……………………………… go to Paris, and during the spring vacation, I visited Athens and various cities in Italy – I was very excited because this was the first time I had travelled with just my friends. This desire …………………… travel started off simply as a way to have something to look forward to after exams, but I soon discovered how important it is to travel.
On my travels I have had the opportunity to not only experience new and vibrant cultures through the art, history, language and food, but I have also had the chance to interact with people who have different outlooks on ………………………. Travelling is a learning experience for both oneself and also the people you encounter. Some people I (meet) …………………… during my travels had never heard of the Gambia and it was very gratifying to share my African roots with them. When you travel you will meet people who have different …………………………………. backgrounds and as a result, sometimes your own ideas and opinions might be challenged. It's important to learn to see things from other people's perspectives and to challenge your own preconceptions.
Travelling is truly an enriching experience and I am always excited for the …………………………. that await me in my next adventure!
can – could – would

to – for – from-

live – leave - life

meet – met – meeting

culture – cultures – cultural

dicover – discovered -discoveries
To be informed of the latest articles, subscribe: